Thank you to Pantene for sponsoring today's post.
Today I'm sharing how to have a luxurious at-home spa day. A lot of us are spending more time at home, and it's so important that we remember to take care of ourselves. Between family and work responsibilities, it can be easy to forget to take some time out of the week (or day) for ourselves. I love having an at-home spa day each Sunday to spend a few hours pampering myself and preparing for the week ahead.
At-Home Spa Drinks
I start my at-home spa day by making a cucumber water and ginger tea so it feels like I just walked into a real spa. If cucumbers aren't your thing, you could also do a citrus water with lemons, limes and oranges or a strawberry water. I make my ginger tea by putting three slices of ginger root in a mug and adding boiling water. Be sure to let it steep for 5-10 minutes. I also like to add a squeeze of one fourth of a lemon and a drop of honey.
At-Home Spa Attire
Of course, you need the coziest items for your at-home spa day. I love slipping on my softest robe and fuzzy slippers. It really helps it feel like you just stepped into a luxurious spa and out of the house.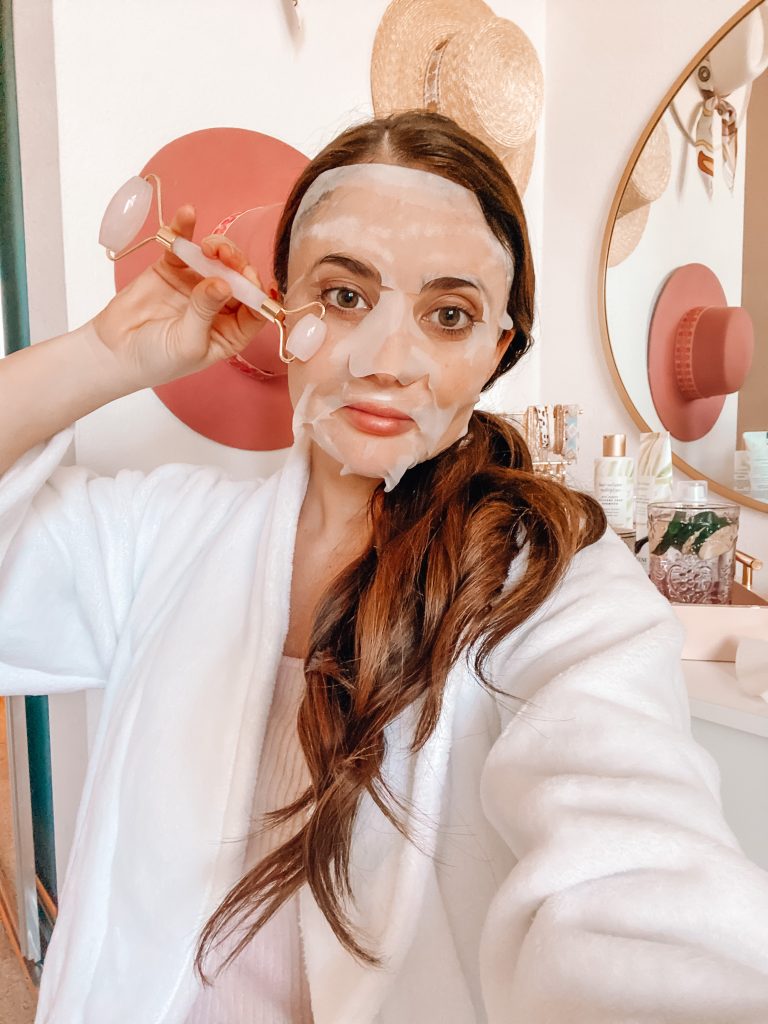 At-Home Spa Essentials
Pantene Nutrient Blends Collection: I wash my hair once a week, during my at-home spa day. I love incorporating my hair wash day into my self-care routine. I've been using the The Hair Volume Multiplier Collection with Bamboo because it helps add fullness to my hair. A few reasons I love using the Pantene Nutrient Blends Collection with Bamboo are:

It's free of silicones, parabens, dye and mineral oil

Includes Vitamin-B-rich Bamboo to support and strengthen hair
It's rich in silica which improves hair elasticity and shine

Sheet Mask & Jade Roller: I keep my jade roller in the freezer, so it feels super cool when I use it. I love applying a sheet mask and then using a jade roller over the top of it. It feels amazing and gives my skin a boost of hydration.
Candle: A candle is a must for creating a relaxing environment. I love using a lavender scented one for my at-home spa day.
Music: I have a small, portable, waterproof bluetooth speaker that works great in the bathtub. You can select a Spa & Massage playlist from Spotify to create the perfect vibe.
Exfoliating Body Scrub: Once a week, I take the time to exfoliate with a body scrub. A body scrub helps remove dead skin cells, smoothens and softens skin, and promotes circulation.
Bath Bomb: Who doesn't love a bath bomb that turns the water a pretty color and smells amazing. I like finding ones that include essential oils to increase the benefits!
During the Week
I love spending extra time on my self-care routine with my at-home spa day on Sundays. However, during the week, between balancing my tax job, blogging and personal life, I'm always looking for ways to save time. That's why I only wash my hair once a week. I'm able to spend less time getting ready in the mornings by using a dry shampoo and dry conditioner. I love using the Pantene Waterless Collection. The Mist Behaving Dry Conditioner Mist keeps my hair smooth and reduces frizz between washes. I can still have a great hair day and extra time in my morning routine to fit in a workout or journaling.
If you're interested in trying the Hair Volume Multiplier with Bamboo for your washdays, click here. Need a quick pick-me -up during those busy weeks? Click here for the Mist Behaving Dry Conditioner Mist.