Pink tulle maxi dress (available in so many colors like gold, red, & navy & under $70)  | Lisi Lerch earrings | Nude heels (on sale!) | YSL bag |
Is there anything better than a dress that makes you feel exactly like a princess? I put this dress on and immediately felt like I was living all of my Disney dreams. I love all things pink and tulle so when I saw this online, I thought it was made for me. As fall approaches, I never put my pink clothing away. I'm a believer in bright colors all year round and today, I'm sharing ten of my favorite pink party dresses for fall, plus all of the details for this gorgeous maxi dress from Saved By The Dress. I recently discovered this adorable online boutique and love their affordable prices and trendy styles.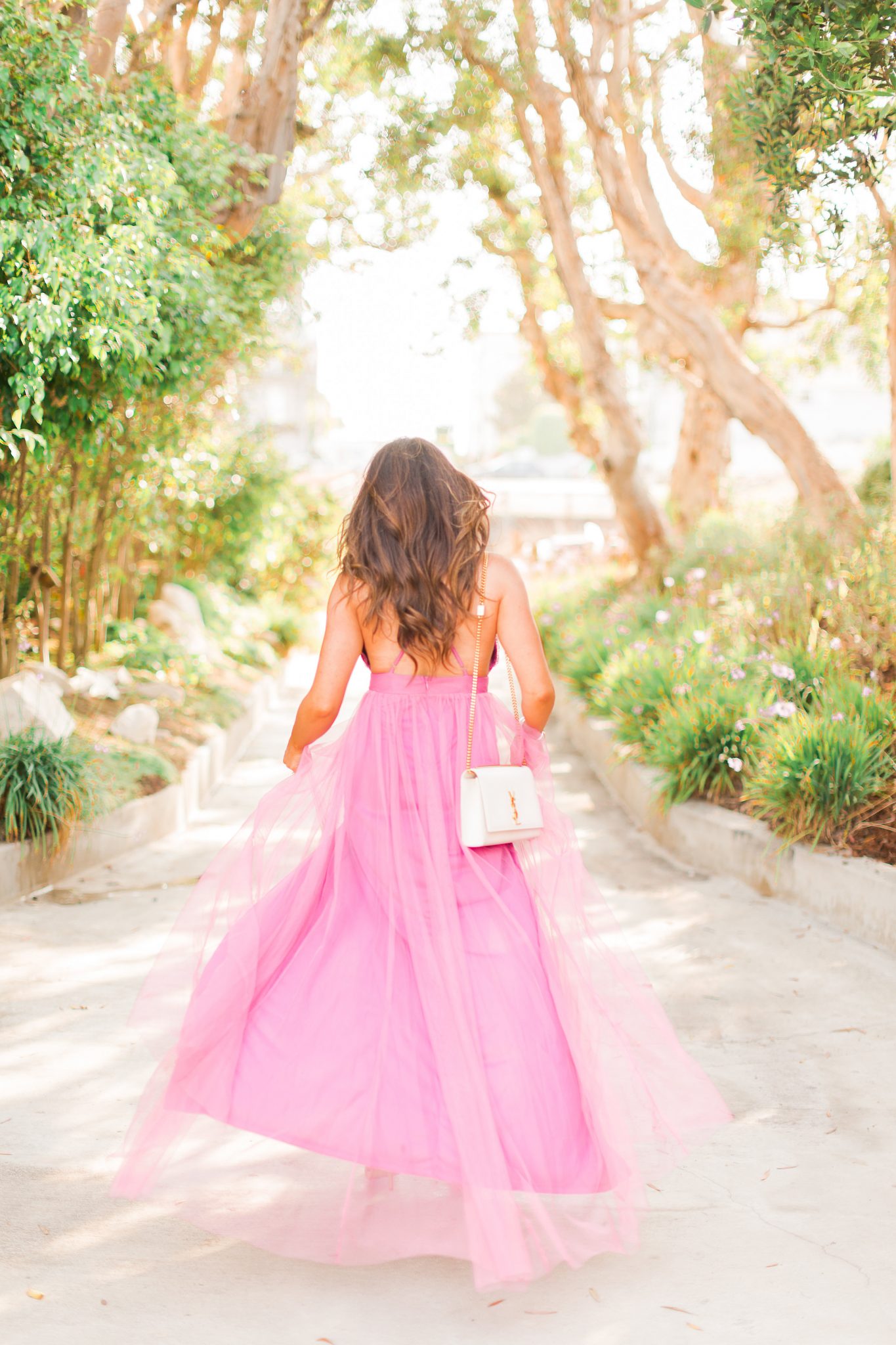 This is one of those pink party dresses that you won't want to take off because you will feel so glam in it. This maxi dress would be perfect for a wedding that's more on the formal side. I also think it would be ah-mazing for engagement photos. How fun would it be to spin around with your fiancé in a tulle gown? You definitely can't wear a normal strapless bra with this dress, but the straps are adjustable so I thought there was enough support without a bra. Whenever I have a dress that doesn't allow for a strapless bra, I always wear these. They're lifesavers, and no one will be able to tell you have them on! Okay, enough bra talk, I want to show you all of my favorite pink dresses for fall! I made sure to pick pink party dresses that could cover a wide variety of events, from weddings and bridal showers to a fun girl's night out.
SHOP MORE OF MY FAVORITE PINK PARTY DRESSES

As always, thank you so much for taking the time to read my post. It means so much to me!
* Thank you to Saved By The Dress for sponsoring this pink party dresses post. All products were picked out by me, and all opinions are 100% my own. Partnerships like this make Maxie Elise possible.
Loving these pink party dresses? Click here now for more of my favorite fashion!!
Photos by Tyler Chase Photography