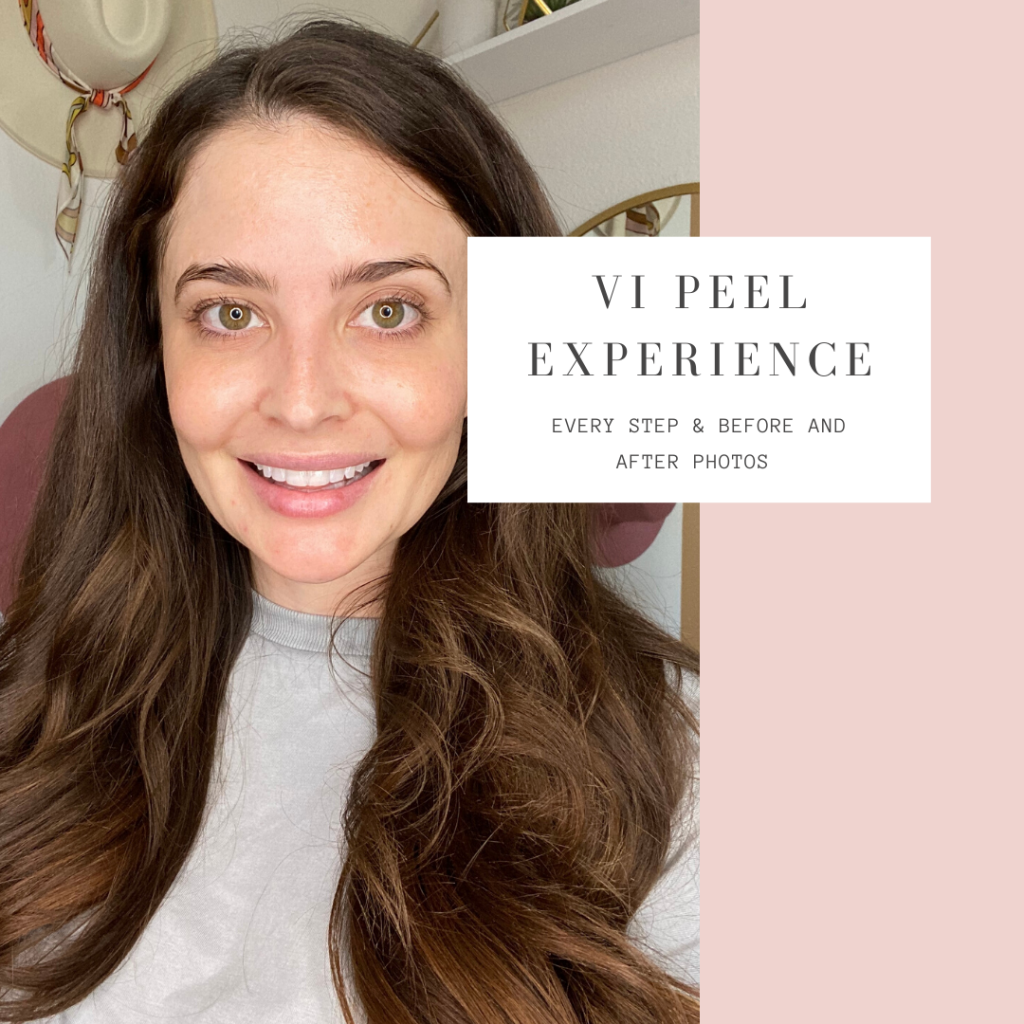 Today I'm sharing all about my VI Peel Experience at CosmetiCare. I tried the VI Peel for the first time two weeks ago. It was my first time doing a peel that had any downtime and caused actual peeling. I wasn't sure what to expect, but I promise it's not as bad as you might think! According to the VI Peel website, the VI Peel Precision Plus combats pigmentation to effectively suppresses melanogenesis and promote rapid cell turnover for improved skin tone.
VI Peel EXPERIENCE BEFORE PHOTOS
Here are my before photos. I did want to mention that you see the best results from the VI Peel after 3-6 treatments so my results will be more subtle this time!
DERMAPLANING
For the VI Peel, we started with a double cleanse and then dermaplaning. I love dermaplaning. If you aren't familiar with the process, they use a medical grade surgical scalpel to remove surface layer dead skin and hair to allow for better product penetration and smoother texture. My makeup always goes on so much better after I've had dermaplaning done. Here is all of the dead skin and hair that came off of my face from the dermaplaning.
During the VI Peel Experience
The next step was degreasing to remove oils and residue so the peel would apply better. Finally, it was time for the peel. It really didn't burn as much as I thought it would. I gave it a five or six out of ten on the pain scale, and it was relatively quick! I just laid on the table the whole time like this.
VI Peel Experience After Photos
This is what I looked like right after the VI Peel experience.
You're given a packet of at home treatment that includes everything you need for the next 7 days. It looks like this.
My peeling didn't start until day 3. It was still pretty subtle, but my skin felt very dry like it was getting ready to peel on my forehead and my chin was flakey throughout the day.
After one week you can expect to see full results from the peel. Here are my before and after photos. I did notice my hyperpigmnetation got better from the VI Peel experience and my skin looked brighter, but I think I'd see even better results after more treatments like they recommend! I also had a wonderful experience at CosmetiCare. If you're in the Orange County area, I highly recommend them for any of you MedSpa needs!