SHOP THIS HOLIDAY STYLE:
| Leopard coat | Black sweater | Black jeans | Boots |
I'm partnering with Ann Taylor on the blog today to talk about one of my absolute favorite prints for the holiday season, leopard. I've always loved leopard so I'm really happy it's so popular this season. As they say, it's basically a neutral in my closet. I especially like wearing it now because I love  to be a bit more glam for my holiday style and leopard really glams an outfit up. I'm sharing three outfits that are perfect for all of your holiday occasions.
This faux fur leopard coat is just a little extra, and I love it. The best thing about it is that it's available in petite sizes! I've been wanting a faux fur coat, but I know they can be overpowering on smaller frames so I was really excited to find one that comes in petite. This chic look is perfect for a holiday date night. The coat would also look amazing over a jumpsuit or dress for a fancier event.
SHOP THIS HOLIDAY STYLE:

SHOP THIS HOLIDAY STYLE:
| Black sweater | Leopard stole | Velvet pants | Bow pumps |
Velvet is another trend that's perfect for holiday fashion. These velvet pants come in five colors, and I really love a red and leopard combo so I decided to go with that color. The black ones are a great classic and the grey are on my wishlist! They're available in regular, petite and tall (yay!). I wore my black sweater with my leopard coat in the first outfit, and it really is a great high quality basic. Lastly, I'm dying over how cute these bow pumps are. They're super comfortable and also come in red which are SO cute.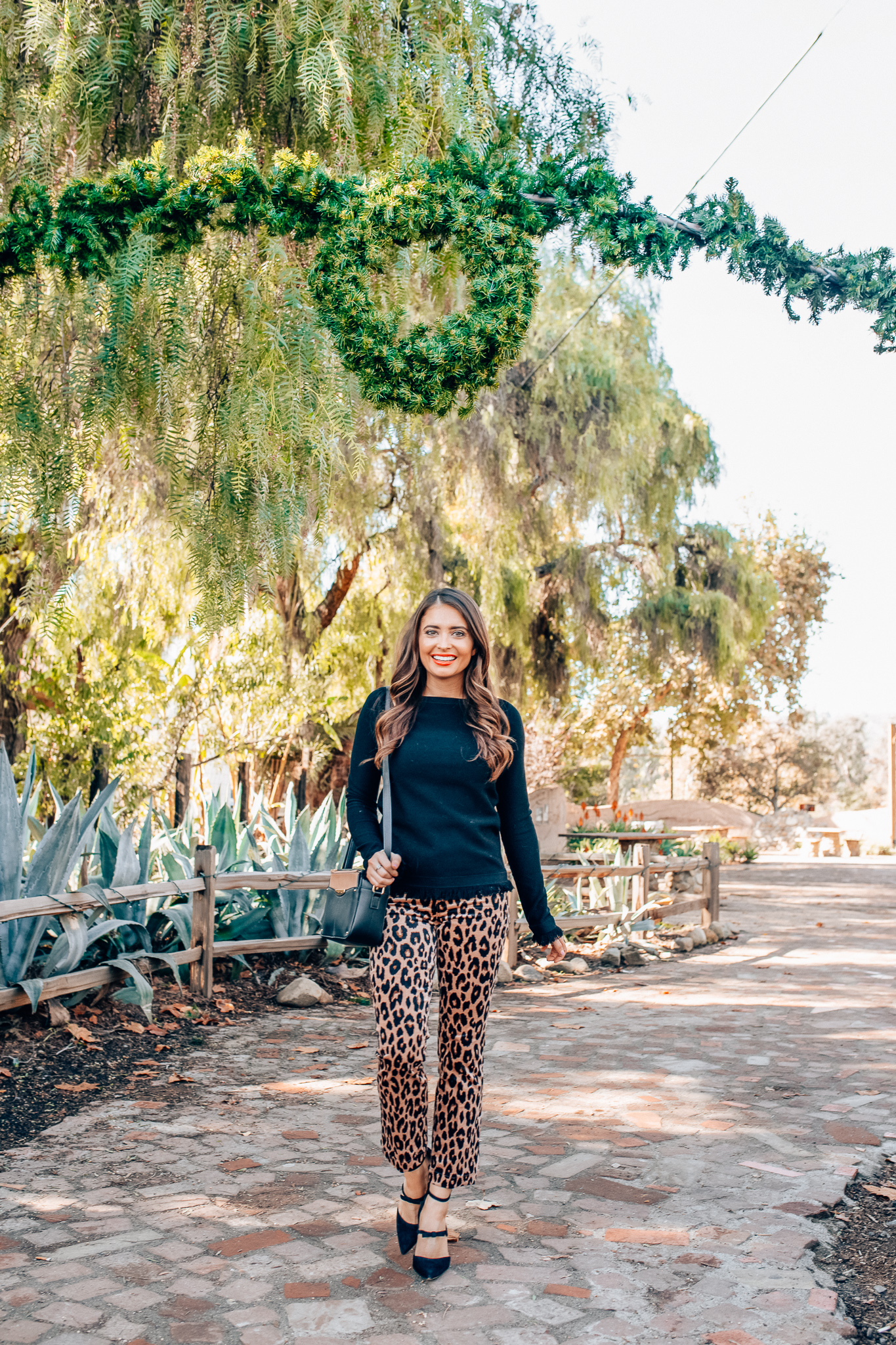 SHOP THIS HOLIDAY STYLE:
 | Fringe sweater | Velvet leopard pants | Bow heels | Purse |
So if leopard and velvet are two of my favorite holiday styles, of course I had to have these velvet leopard pants. I am obsessed! I've never been able to find a flare crop pant that looks good on me and these do. They'd look great with any black sweater, but I really loved the fringe detailing on this one. I love this outfit for an office holiday party as it's trendy and more fun than something I'd usually wear to work but still totally work appropriate.
So are you all loving leopard? Have I convinced you to jump on the leopard train?
My grandma said she was going to get all of her old leopard pieces out of her closet when I told her it was back in style so I know she's on board. As always, thanks for stopping by and thank you to Ann Taylor for sponsoring today's post.
SHOP THESE LEOPARD HOLIDAY STYLE FAVORITES:

Loving this Holiday style? Click here now for more fashion favorites!
Photos by Alexandra Folster