The Fourth of July is one of my favorite holidays in the summertime! I love getting to spend it outdoors with friends having a cookout in the sun and getting to watch fireworks. This year will be extra fun with the holiday being on the weekend, so now there is even more time to celebrate. Every 4th of July, I always look forward to the outfits too. I love getting to mix bright red and bold blue to create fashionable Fourth of July outfit ideas. Whether you are looking for a casual outfit or dressed up, I have over ten different outfits that you will love!
Fourth of July Outfit Ideas for Women

The ruffle details on the white bodysuit make the outfit! This adds a bit of glam, but not too much to overpower a casual Fourth of July event. The red heart-shaped sunglasses give such a fun touch and a bold pop of color to make the outfit festive for the holiday without going overboard. If you are looking for an outfit that is dressed up, this is the one for you!

I love this outfit idea for if you are going to be out on the beach watching fireworks. This is another perfect Fourth of July outfit idea without being too overpowering with red, white, and blue. The stars and stripes detailed earrings give the perfect Fourth of July touch. Add a swipe of red lipstick, and you're ready for the party!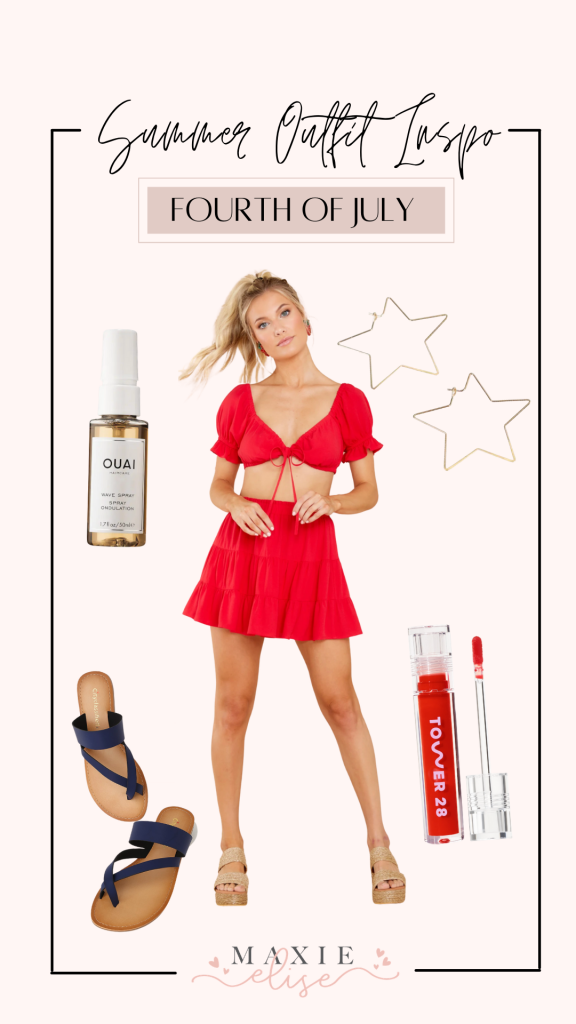 If you aren't afraid of going bold in red, this is a firework-worthy Fourth of July outfit idea! This two-piece set from Red dress is fun and flirty and would pair great with navy sandals. With an outfit as bold as this, you need an awesome hairstyle to match. I love the OUAI wave spray to add texture and make it look like you just left the beach. Make sure you get plenty of Instagram photos in this outfit!

A Fourth of July romper would be perfect for staying comfortable and cute for a casual pool day. The pool time glowing body oil by Summer Fridays is a fun touch to make your skin glow in the sun. It's super hydrating for your skin and smells delicious! Add on the Fenty Beauty red matte lipstick for a pop of color, and your Fourth of July outfit idea is complete.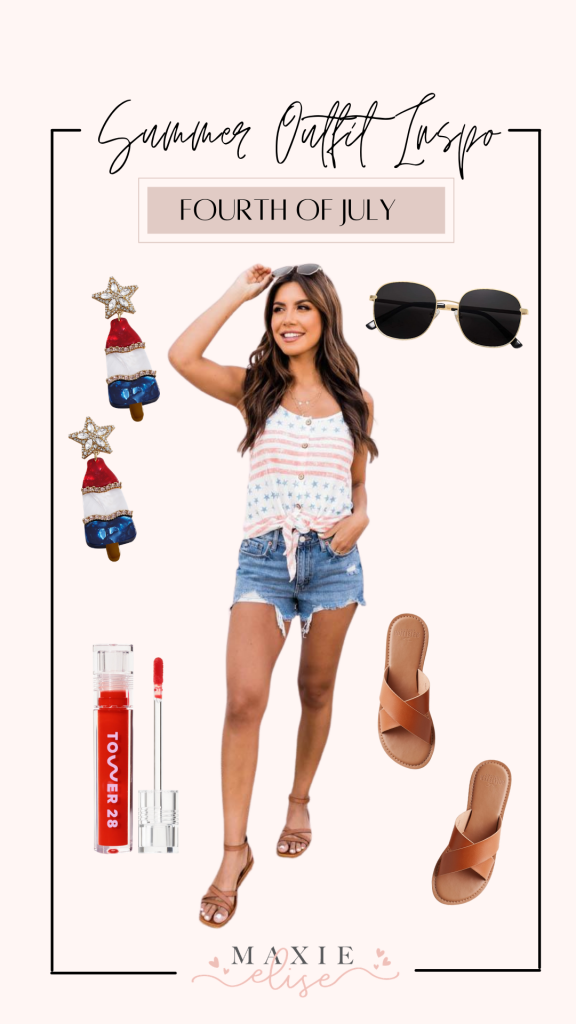 These popsicle earrings are everything for the Fourth of July! They match the washed-out Stars and Stripes tank from Pink Lily Boutique. The brown sandals are cute and casual for this outfit and will be a staple in your wardrobe for the rest of the summer. However, my favorite part of this outfit is the Amazon sunglasses. These are always my go-to for the summertime since they match so many different styles.

During the Fourth of July weekend, there are always so many fun festivals and parades happening. If you'll be heading to one with your family or friends, this would be the perfect Fourth of July outfit. It will keep you feeling fresh in the hot summer sun and comfortable walking around town. The red star earrings and Kate Spade bag are the perfect festive touch!
What to Wear on 4th of July

These graphic tees are just what you need to look simple, cute, and comfortable while you are outside all day! In addition, they would look trendy paired with jean shorts, paper bag shorts, or ripped jeans. Add on some fun accessories like a sun hat and bangles, then your Fourth of July outfit idea is complete!

If the weather is warm where you celebrate Fourth of July this year, these outfits are great to keep you cool. You could dress them up by adding fancy accessories and wedges or dress them down for a casual barbecue with family.
This year, I am still deciding if I will wear something casual or to go with a more glam Fourth of July outfit. Most importantly, I do know that I am so excited for a fun weekend spent with friends to celebrate the summer!