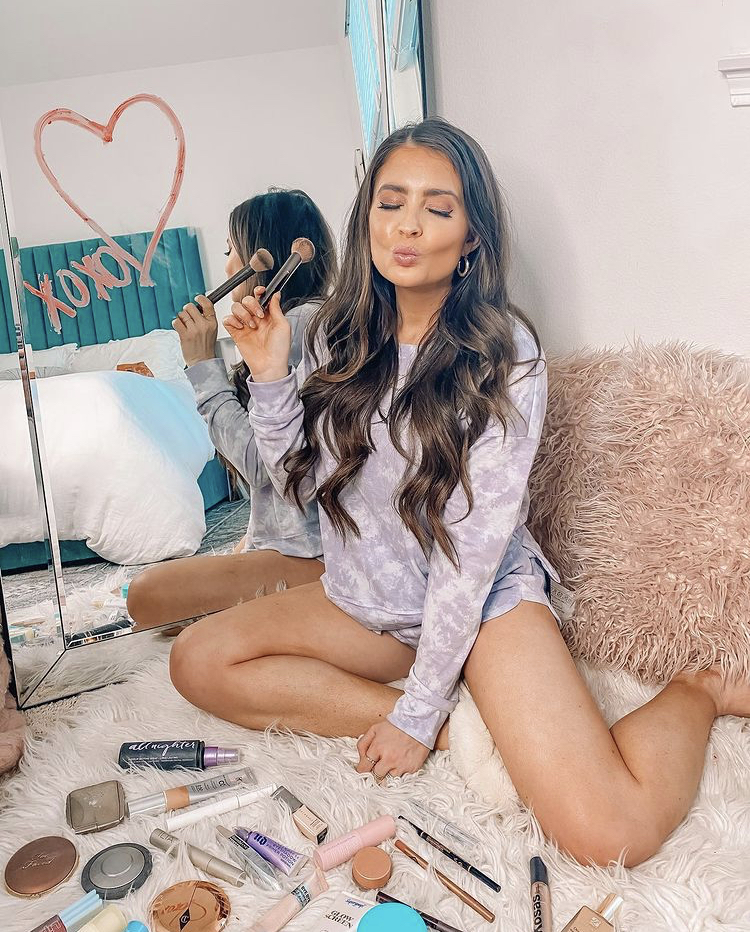 Many affordable makeup brands these days have been coming out with incredibly identical products to items sold by high-end makeup brands. While these more inexpensive products are close in comparison to their high-end counterparts, they aren't exactly the same. Finding an affordable makeup dupe that you can trust and count on can be tricky, but don't worry! I've done the hard work for you and piled together some of the best affordable makeup dupes on the market today.
Affordable Makeup Dupes for High End Products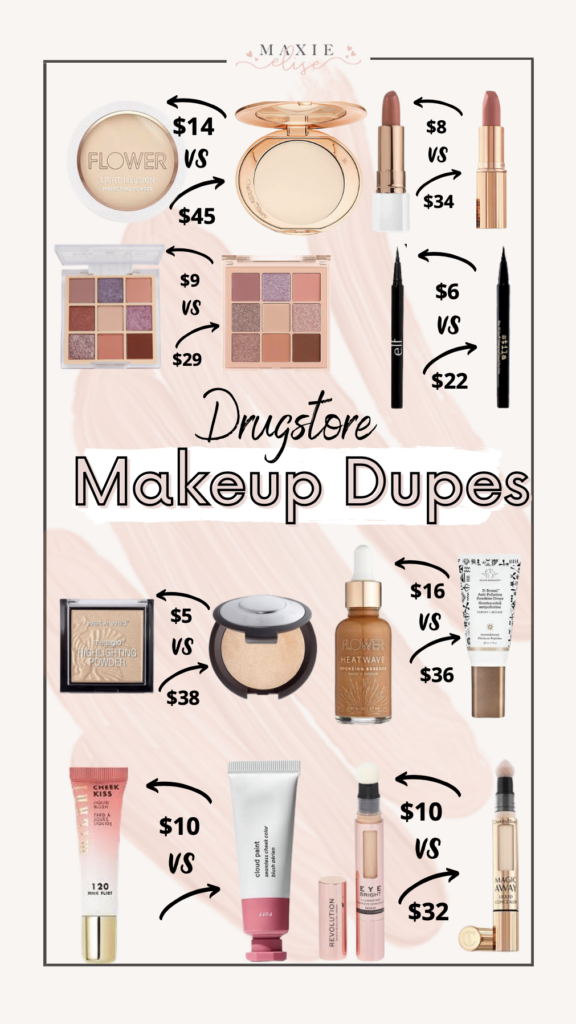 Since these makeup dupes are more affordable, they are also more accessible for you to purchase. And not as intimidating either! It can feel overwhelming going to the makeup counter at Nordstrom and feeling pressured into buying an expensive product that you don't even know if you will like or not. These affordable makeup dupes can be purchased at so many different stores. My favorite places to buy drugstore brand makeup is Target, Ulta, and my local CVS.
Huda Beauty eyeshadow palettes have become a cult favorite in the makeup world since they first came out a few years ago. The Huda Beauty Nude Obsessions Eyeshadow Palette is gorgeous, but if you don't want to spend $29 on it, there are other options out there. I found this $9 Makeup Revolution Ultimate Nudes Eyeshadow palette that is practically identical! Both palettes have pretty soft browns and pinks with pops of glitter. This palette has tones that would be perfect year-round. The Makeup Revolution palette is less pigmented, but it is still buildable. With it being more buildable, it is much easier to work with that way you don't have too harsh of a look if you don't want to.

Finding a good concealer can be tricky. There are so many different ones out there on the market, and it can seem that the best ones are always the most expensive. However, with having discovered this Makeup Revolution affordable makeup dupe, that's not the case! This concealer is very comparable to the Charlotte Tilbury Magic Away concealer. The applicators are similar, and both have a cushion tip. The Makeup Revolution concealer's consistency is more sheer and lightweight, but it still provides a significant level of brightness to your undereye like the Charlotte Tilbury version.

Eyeliner pens are one of my favorite types of eyeliners because they are so simple to use. You don't have any mess of using a gel pot, and it glides on much smoother than using a pencil. The Stila Stay All Day eyeliner and the e.l.f. H2O eyeliner both have pen applicators that look identical. This is practically a perfect makeup dupe! Both of these eyeliners glide on similar and are waterproof. Definitely give this e.l.f. Eyeliner, a try if you are a fan of the Stila version!

I love trying new highlighters! Living in California, where the sun is pretty much always out and hitting your face, it looks so beautiful to have a glowy pop. However, since I love trying them out so much, it is a bit unrealistic to keep spending money on high-end highlighters. Especially when there are so many great affordable makeup dupes out there on the market! This $5 Wet n Wild highlighter is similar to the $38 Becca highlighter color. You get a gorgeous glow and perfect pop!

If you have tried the Glossier cloud paint and enjoyed it, you will love the Milani Cheek Kiss. Both of these products are a buildable, cream blush that is so easy to apply. You can use your finger, a beauty sponge, or your favorite makeup brush. Milani has a wide range of colors to match the variety that Glossier offers with its cloud paint product. The Milani affordable dupe gives a pretty and dewy look. Perfect for those days where you want a more natural makeup look.

If you all have been following me for a while, then you know that the Charlotte Tilbury Pillow Talk Lipstick is one of my all-time favorite lip colors. I am constantly buying backups online because this color goes with so many different looks. It has never failed me! However, since I love it so much, who knows how much I have spent on it over the years. I'm so excited to have found an affordable makeup dupe for the Charlotte Tillbury color in a Flower Beauty lipstick. The Flower Beauty color in Spiced Beauty is almost identical and has a similar matte finish.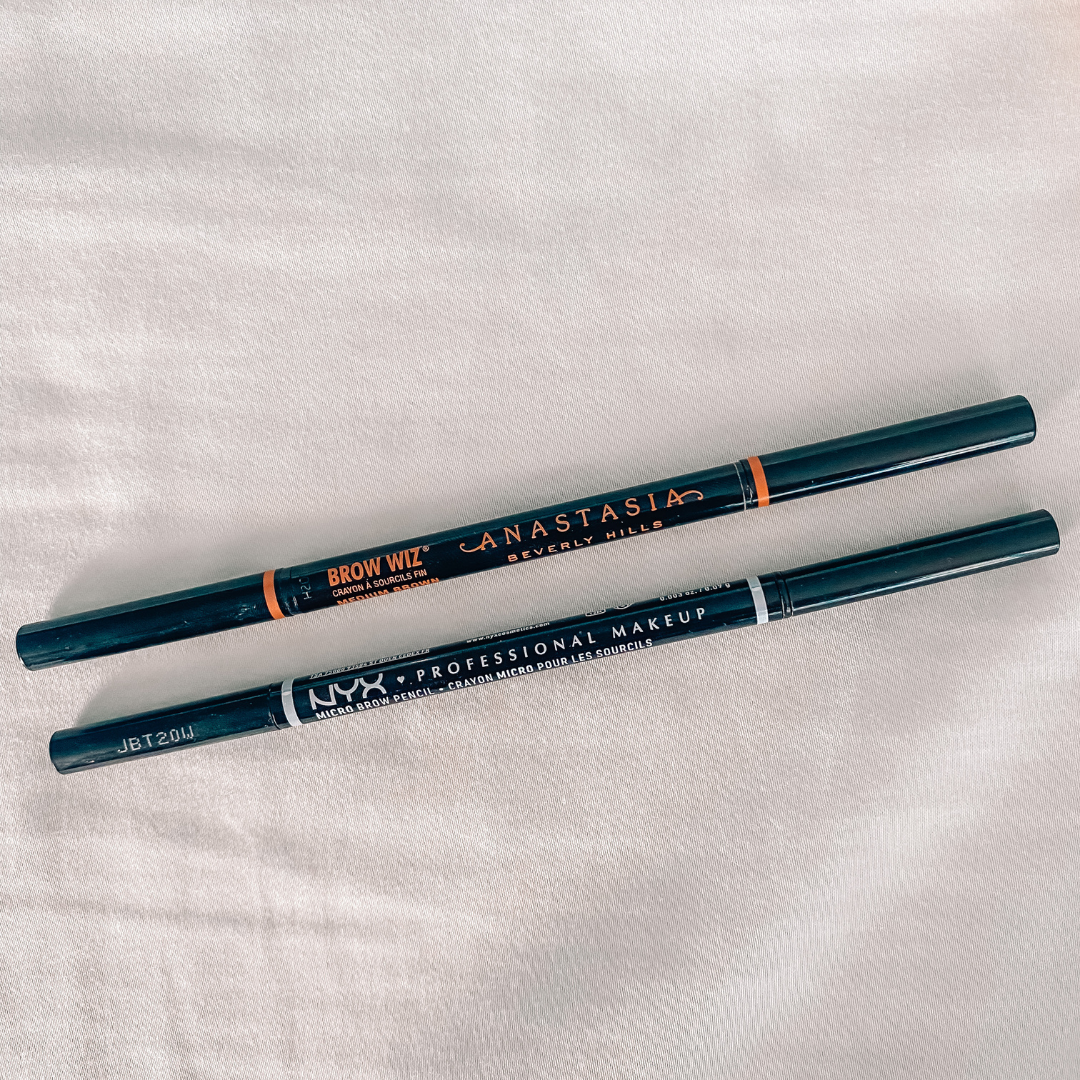 Anastasia Beverly Hills is well known for their brow products. They have been a game-changer in the makeup industry. But brow products can be expensive to keep up with if you are someone who does their brows every day. The NYX Micro Brow Pencil is a perfect dupe for the Anastasia Brown Pencil. Both are slim, retractable, and are great for making details. NYX also has a wide range of shades, so you will be able to find the perfect match for your tone. If you have used the Anastasia Brow Wiz before, I know you will love this Micro Brow Pencil by NYX!

$36 Drunk Elephant D-Bronzi vs. $16 Flower Beauty Heatwave Bronzing Essence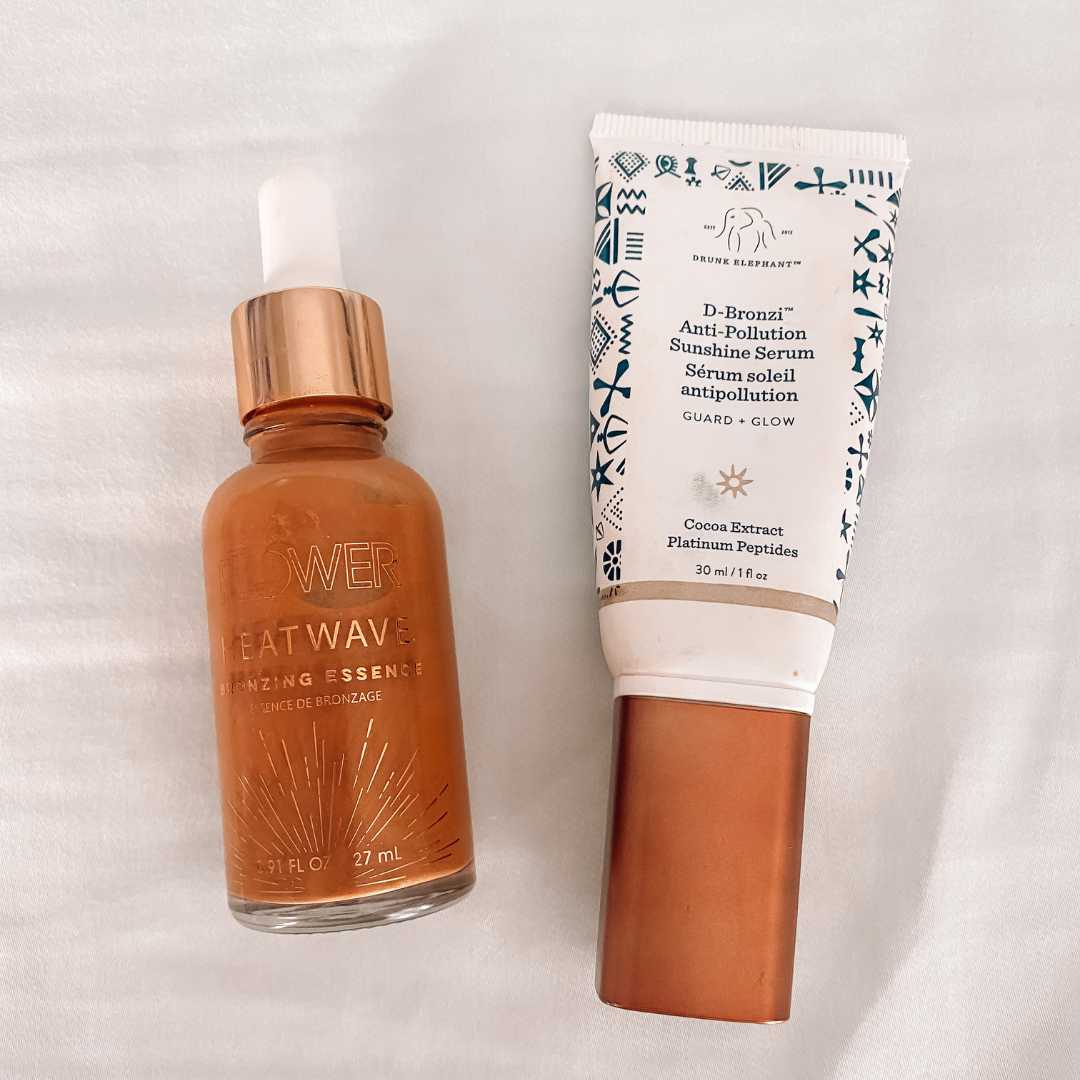 If you like the Drunk Elephant deep bronzing drops, you have to try these bronzing drops by Flower Beauty. You mix the drops in with your moisturizer, and it gives such a natural, sun-kissed glow. They both are the same color as well. I used the Drunk Elephant product on one side of my face and the Flower Beauty version on the other side, and you couldn't even tell the difference!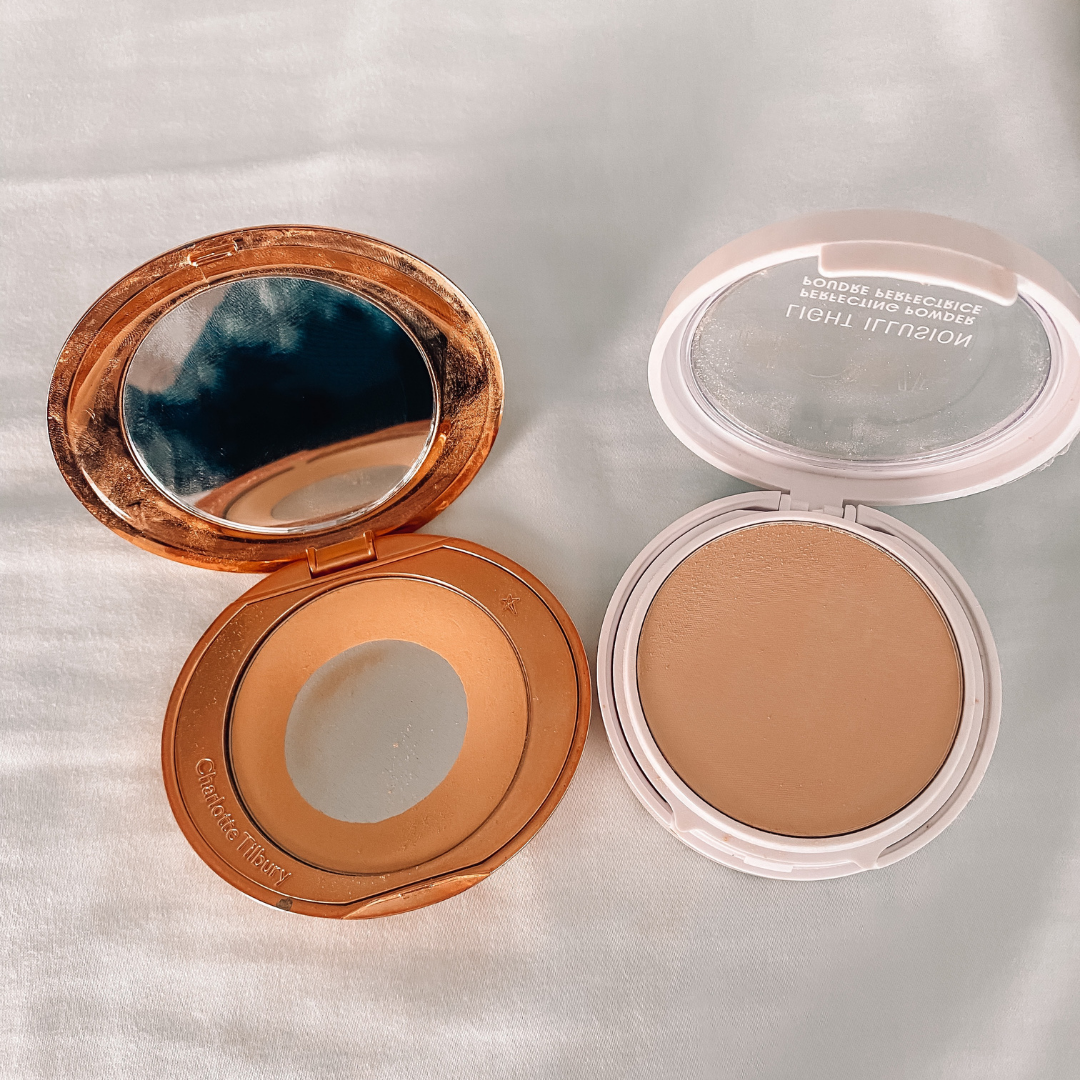 Charlotte Tilbury makes my favorite setting powder, but the Flower Beauty Light Illusion Powder is such an affordable option. Both of them are a fine setting powder that gives a very similar soft and flawless finish. The Charlotte Tilbury product is $45, whereas the Flower Beauty powder is only $14. You can't beat that! Especially if you use powder in your makeup routine daily.
All of these affordable drugstore makeup dupes that I shared are tried and true, and I know that you will love them if you add any of these products to your makeup routine. There are so many amazing drugstore makeup dupes out there on the market that I have been trying, so be sure to follow me on TikTok and Instagram to know when I share more!
Until next time,