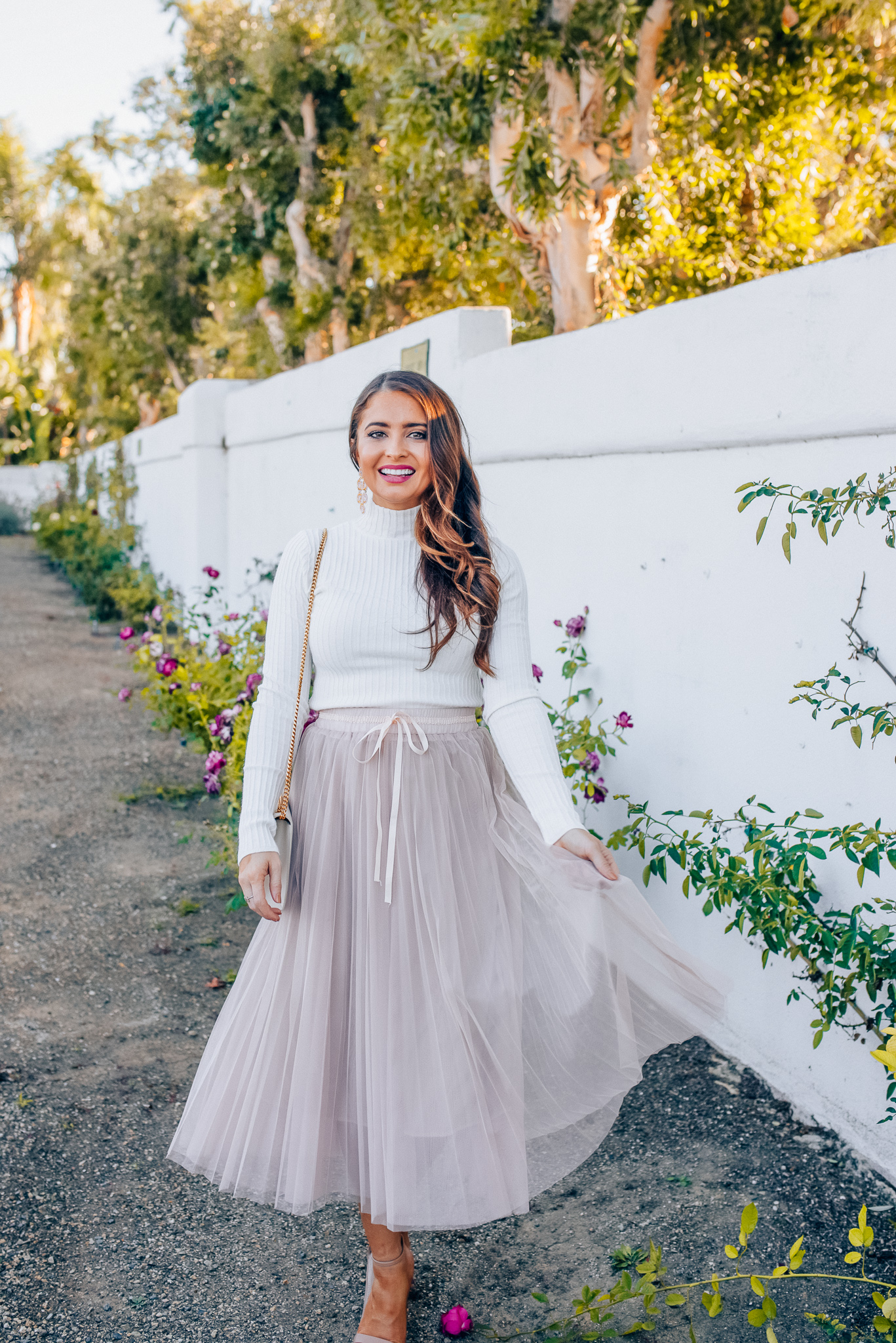 | Turtleneck (mine is sold out so I linked a similar one!) | Chicwish tulle skirt (c/o) | Earrings | Heels |
Happy Sunday my friends! I can't believe another weekend has flown by, and we're already done with our first weekend in November. Thanksgiving and Christmas will be here before we know it! I love dressing up for the holidays and wearing tulle skirts year round so I wanted to share tips on how I style tulle skirts for winter (or fall!).
1. Don't be afraid to wear light colors
My first tip for styling a tulle skirt for winter is don't be afraid to wear light colors this time of year. Sure, you can find a tulle skirt in black, but you can definitely still wear a white, blush, or tan one. This look isn't just for bride-to-be's either. The classic and conservative length for a skirt like this makes it perfect for a dressy work holiday party. I specify dressy here because my company had our holiday party at a bowling alley in the past so my tulle skirt would not be appropriate for that casual scene. Can you imagine me showing up to bowl in heels and a tulle skirt? I think my coworkers would maybe not be shocked but probably look at me like I'm crazy.
2. Wear a classic winter top like a turtleneck or chunky sweater
If you're going to wear a color that's typically more common in spring, I recommend wearing a top that's a winter classic like a turtleneck or chunky sweater. A faux fur coat would be super cute to throw on over my outfit too if it's extra cold where you live. If you opt for a chunky sweater, I would wear one that is cropped so you can still see your waist and don't lose your shape.
3. Wear nude colored heels (for my petite girls)
My last tip for styling a tulle skirt for winter is for my petite girls. If you're petite like me, tulle skirts can make you look short and overpower your petite frame. For me, heels are a must. I would love to do a chic look and try tennis shoes with a tulle skirt, but with my height it just doesn't work for me. Nude heels always make your legs look longer compared to a dark color like black.
I hope these tips encourage you to try a new style if you haven't styled a tulle skirt yet! As always, thanks for stopping by!

Photos by Alexandra Folster