| Pocket poncho/scarf | Striped perfect fit top | Pull-on denim |
Today I'm partnering with Grace and Lace to share two adorable ways to style plaid outfits for fall.
If you haven't heard of Grace and Lace, you have to check them out! Not only are their clothes adorable (and affordable!), the owner has a beautiful story surrounding the creation of Grace and Lace, and a portion of the proceeds are donated to build orphanages in India. I always love sharing brands that are making a positive difference with you all and couldn't be more excited to style new pieces from Grace and Lace.
How to Style your Plaid Outfits for Fall
Okay, how cool is this pocket poncho/scarf?! You get to wear it two ways so you're basically getting two new outfits if you buy this! The first way I'm wearing it is as a pocket poncho. It is loose and flowy and so easy to throw on over a tee. The second way I'm styling it is as a scarf. When you wrap it up like you would any other scarf, you can't see the armholes from the first styling. I truly can't decide which one I like more. They are both SO good!
I also have to mention how amazing this tee is. I was skeptical at first because it's a one size fits all top, but it's super stretchy so I think it would fit most sizes well! Both my scarf and tee come in so many colors! Lastly, these jeans. They have a stretchy waist band so they are extra comfy. Jeans that feel like sweats, what more could you want?!
SHOP THESE PLAID OUTFITS: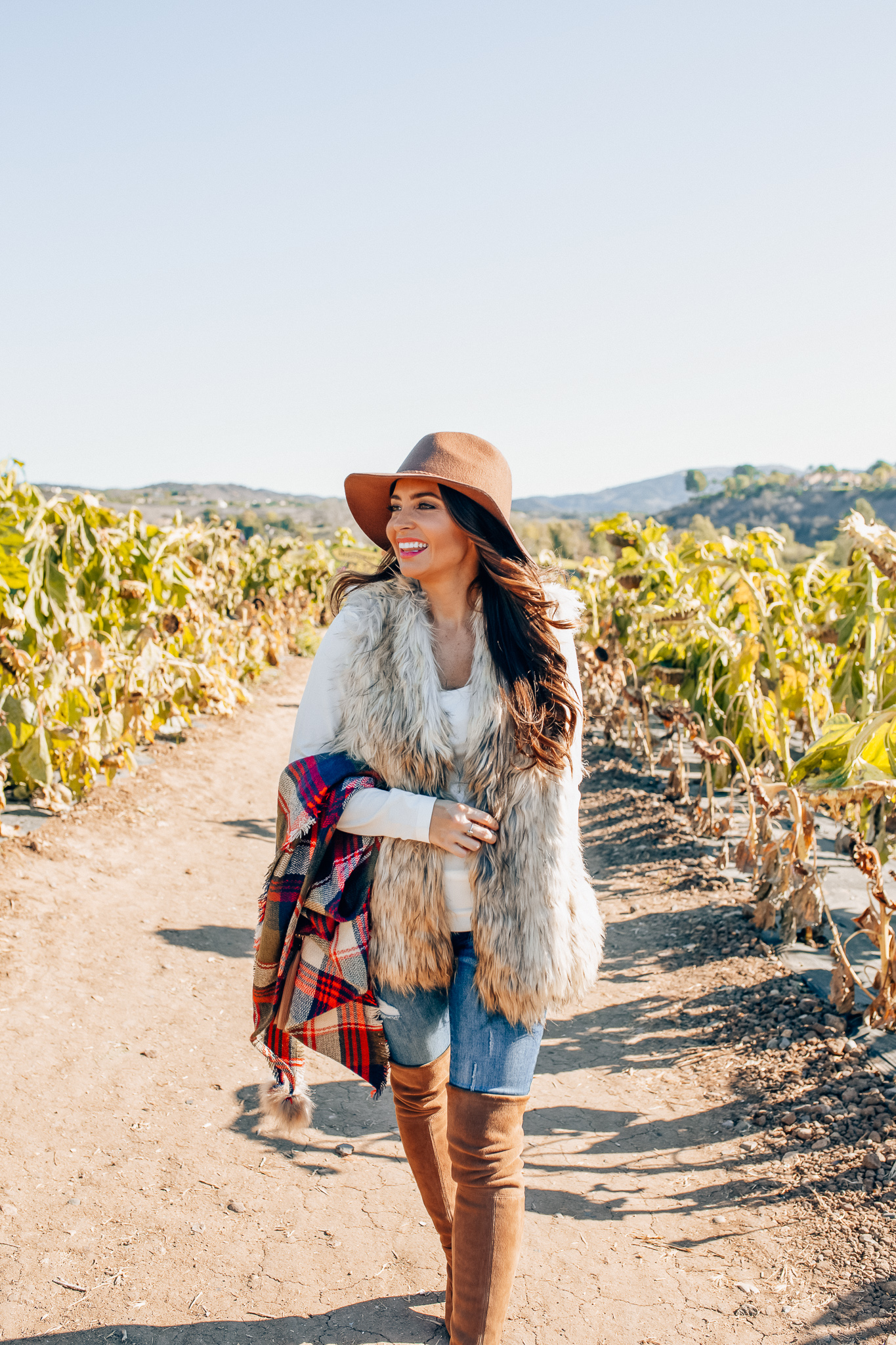 | Faux fur vest | Scarf | Perfect fit top | Felted wool fedora | Pull-on denim |
For my second plaid outfit, I'm styling another adorable scarf. I absolutely love the little fur pom poms on the scarf. It is such a fun detail! In my first look with the olive plaid scarf, I'm wearing a fur vest. I'm holding the scarf, but it also looks cute when you wear it over the vest. The vest does run a little bit big which is great if you want to layer it over something heavier. If you're planning to only wear it over a thin shirt like I'm wearing, you could definitely size down!
I also wanted to make sure I showed you what the scarf looks like worn by itself. It's really easy to fold and would look great with a lot of other colors like navy, olive, and tan. The fedora I'm wearing is also from Grace & Lace. It comes in three colors, and I'm convinced it's the fall hat that anyone can pull off! What's your favorite look that I shared? I'm still having troubling picking!
SHOP THESE PLAID OUTFITS:

Loving these plaid outfits? Click here now for my of my favorite style!!