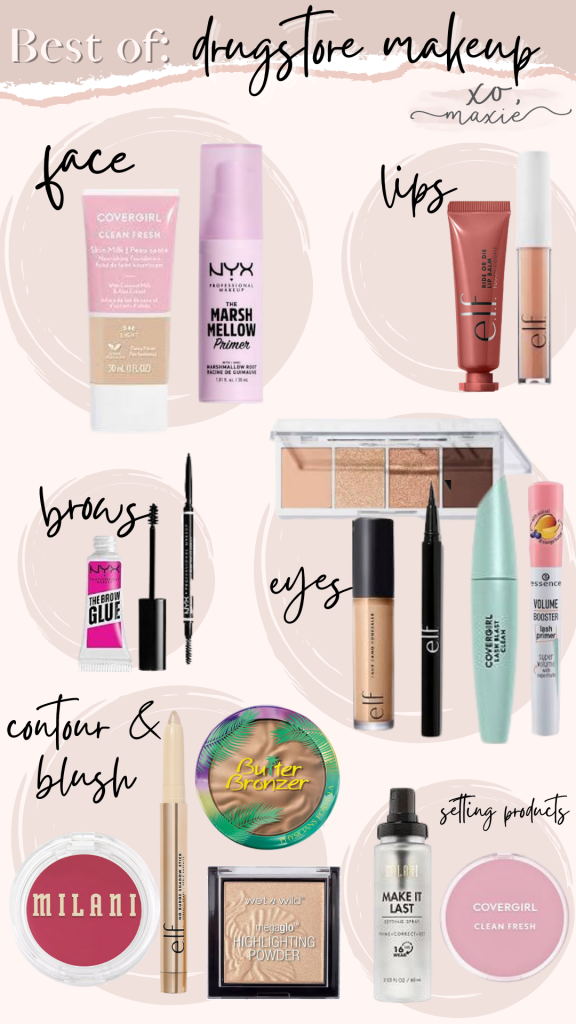 I'm always on the hunt for great drugstore makeup products that I can use and recommend to you all. It's so exciting when I find a drugstore product that performs just as nicely as a high-end, expensive counterpart. When I am not shopping at Sephora for my ride-or-die high-end makeup products, you can find me at Target or the drugstore trying to find more affordable alternatives. These drugstore makeup products of 2021 are all ones that I have been so impressed with and will be repurchasing. Make sure you save this post so you can go back to it the next time you are out shopping, or go ahead and order them all online through the links below!
The Best Drugstore Makeup of 2021 to Buy at Target

I've shared the NYX Micro Brow Pencil before, and I will keep raving about this product forever! If you like the Anastasia Brow Wiz, then you will love this brow pencil. They are so similar, and it's only half the price. This is a drugstore makeup 2021 must-have!

If you like powder blushes, then you need to try this one by Milani. It's easy to apply and super buildable, so you can keep it as natural or striking as you like. The colors have just a touch of shimmer and remind me of the NARS blushes. I like the color Dolce Pink. Definitely head to Target and give this a try for yourself!

I exfoliate my lips once a day, and this $4 lip exfoliator from e.l.f. is perfect for that. It removes dry and chapped skin makes my lips feel so nourished and soft afterward. The product has vitamin E, shea butter, and avocado in the formula, making it safe to use daily. I like clear or mint if you like a nice fresh effect.

This lip balm really is my ride or die! I have been using the shade "fresh cookie" for so long and am obsessed with it. It's a moisturizing lip balm that hydrates and plumps your lips while giving you natural color. When I pair this with the e.l.f. exfoliator, my lips are soft and shiny and moisturized! If you're sensitive to fragrance, this does have fragrance in it, but it doesn't bother me.

These bite-sized eyeshadows by e.l.f. are so pretty and only $3! They come in so many different colors and are perfect to have in your makeup bag for a happy hour touch-up or take along with you while traveling. I love that the four shades include matte and shimmer formulas.

If you haven't tried the Wet N Wild MegaGlo highlight yet, head to Target and grab one! It gives off such a gorgeous glow and looks similar to the Becca highlighters but for less money. I have the color Golden Flower Crown.

This is one of my all-time favorite bronzers and is the best drugstore bronzer I've used! I really like the variety of shades which are perfect for if I am using self-tanner or am just my natural tone. It has a smooth and buttery texture that just melts right into your skin to give a beachy glow.

e.l.f.'s lip lacquer is amazing because it doesn't make your lips too sticky, and it's only $3! I will be using this all summer long for a glossy look. You can wear the lip gloss alone or pair it over your favorite lipstick or lip liner. Plus, it's vegan and cruelty-free! I love the color Fantasy.

I love this drop foundation because you can create a completely custom color perfect for your skin. You just need about two to four drops of the foundation, depending on your desired type of coverage. To get more of a glow, they have illuminator drops you can add and then hue shifters to add in, which can change the color and tone. You can create your perfect foundation with this!
The Best Drugstore Makeup of 2021 to Buy at the Drugstore

The Covergirl Lash Blast mascara is one of the first mascaras I ever tried. This has been a product I have used for years, and I love that they came out with a new clean formula! It's a long-time favorite of mine and is one of my most repurchased mascaras. It's great for lengthening lashes and doesn't clump. The new vegan formula is free of parabens, sulfates, talc, and mineral oil. It's also infused with argan and marula oils, leaving your lashes feeling conditioned.

This is another Covergirl favorite of mine for when I want to have a more natural look. It is light coverage and gives off a nice dewy glow. My favorite is that the formula has coconut milk, which makes the product smell so nice and makes your skin extra hydrated.

The Skin Milk Foundation works excellent with this pressed powder. If you get the foundation, then you definitely need this powder to go with it. This powder makes your pores less visible and makes your skin look incredibly smooth. You can wear it over your foundation for extra coverage or on its own. It absorbs oil in your skin and gives off a natural finish. I like to reapply it during the day to any areas that get shiny like my forehead, nose, and chin.
I am always updating you all on drugstore makeup 2021 products, so make sure you follow my Tik Tok page so you can see when I find new products! What are your favorite drugstore products that you've tried? Let me know below!