Summertime is finally here again! To kick off another fun summer filled with adventure, my husband and I took our first vacation to St. Barth's and instantly fell in love with the island! We spent time sleeping in, hiking to different beaches, swimming in clear blue water, and treating ourselves to the freshest sorbet. Slept in, hiked down to the prettiest beach, swam, and got sorbet. One of my favorite parts about the trip (and what so many of you commented on my Instagram) was breaking out new items from my summer wardrobe. I compiled all of my outfits from our Spring St. Barth's trip, so you can use them for 2022 summer vacation outfit ideas!
Accessories for Summer and Beach Vacation Outfit Ideas

I am so glad I packed these accessories for my beach trip because they worked with every outfit I had! The braided Walmart sandals are under $15 and were comfortable walking around in all day. Of course, you can't go to the beach without a hat! This is my favorite beach hat that I take on so many of my summer vacation trips. The sparkly sandals were a fun way to dress up my beach outfits, and they are on sale right now. I wear the Amazon $15 sunglasses all the time, and they matched every bikini I brought with me. The platform heels are just under $50 and are so in right now for Spring.
Bikinis and Cover Ups for 2022 Summer Vacation Outfit Ideas

I've had this coverup for two years, and it's always a go-to in my summer wardrobe; plus still looks brand new! I tried five different Target swimsuits before leaving for the trip, and this was my favorite one by far. It comes in tons of colors and is only $35 for the set. I sized up the top to a large, and the bottoms fit true to size, so I ordered an extra small.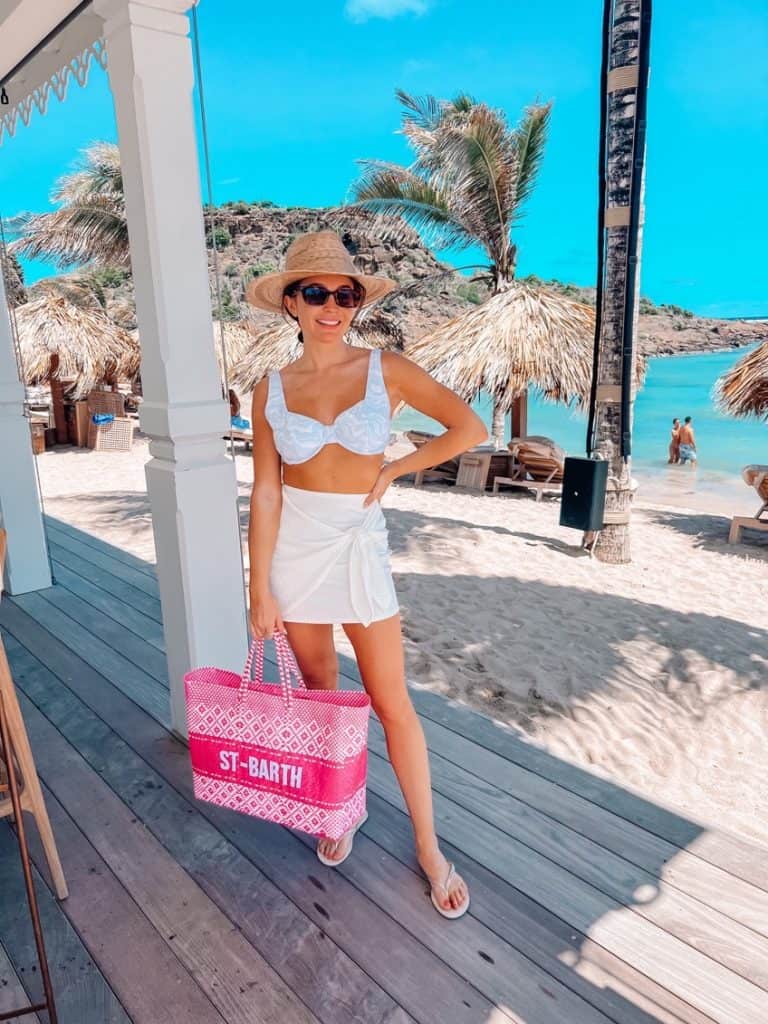 Abercrombie makes some of my favorite bikinis, and this one was a staple for me on this recent beach vacation. I purchased a medium in the top and an extra small in the bottoms. I used the white skirt as a cover-up in an extra small, so we could shop around and had my favorite beach hat with me too to keep from the hot sun.

This bathing suit is the perfect bright color for 2022 summer vacation outfit ideas! It runs true to size, and I purchased it extra small in both pieces.

I loved having this affordable bikini on this trip! The bright pink cover-up paired so cute with the neon suit. I bought a 6 in the top and 2 in the bottoms.

I always love full bikini sets where you can get pieces to mix and match with others. This bikini set comes with a matching sarong that I used with different bikinis over this beach vacation. For this bathing suit, I got a medium in the top and an extra small in the bottoms.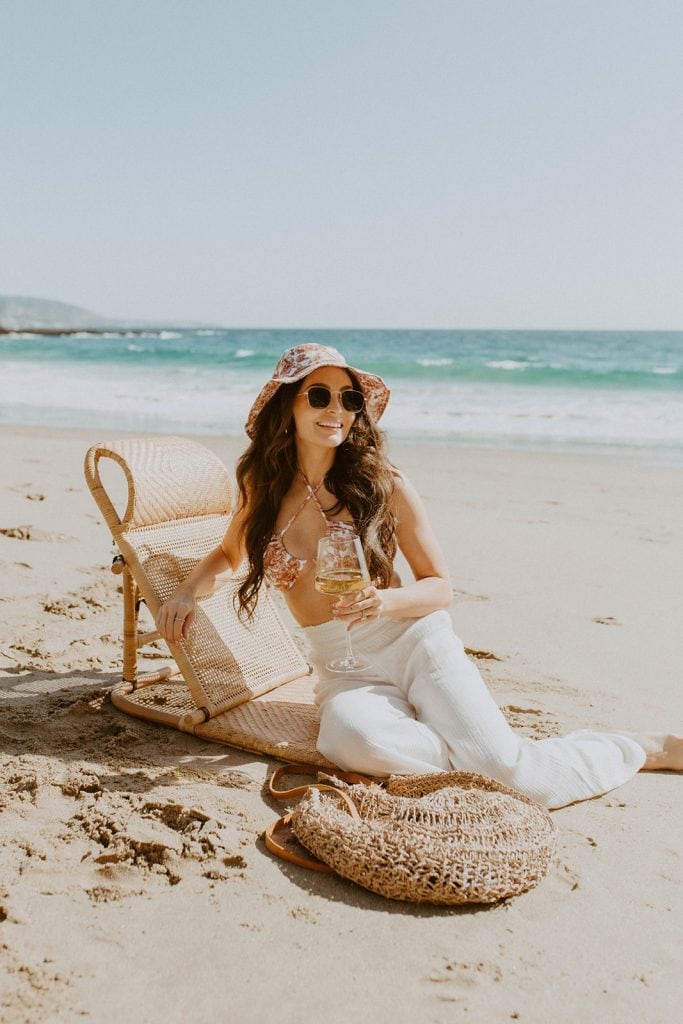 A pair of white cover-up pants should be a staple in every summer vacation wardrobe. I love how much these match all of the different items I have. The sizing is really versatile with options in petite and tall, so I got the XXS petite. There also is a matching top if you want to wear the full set.

This coverup is easy to throw up and super girly. It would be perfect for a bride to be to pack along for a bachelorette pool party!

This coverup is a bit of a splurge item, but it was perfect for St. Barth's and would be great for a chic lunch. For the underneath bathing suit, I have a medium top and an extra small bottom.

This is one of my favorite coverup sets for the beach. It also has matching pants if you prefer that instead of shorts. For this set, I got an XXS in the shorts and an xs for the top.

From our entire trip, this bikini was my favorite! It also comes with a matching hat, which was so fun to have. I sized down to a small in the top, then did an XS in the bikini bottoms and shorts.
Beach Vacation Outfit Ideas

This black tank is the best basic tank! I have it in black and white, and it would be perfect to use for so many different 2022 summer vacation outfit ideas. In the tank top, I wear an xs. The white coverup skirt is perfect to be able to throw on. For this, I am wearing a size 0.

If you love color, then this summer outfit inspo is for you! Bright colors and neon has been trending all Spring long and will be popular over Summer. I love the fun heel, and the pink Amazon purse is under $100 and the same one that Hailey Bieber wears. For the top, I sized it down to XXS.

I've been wearing this white crop with everything. It's such a great staple for summer vacation outfits. These pants are such a great length, even if you're petite. The green color is really in right now for Spring and Summer!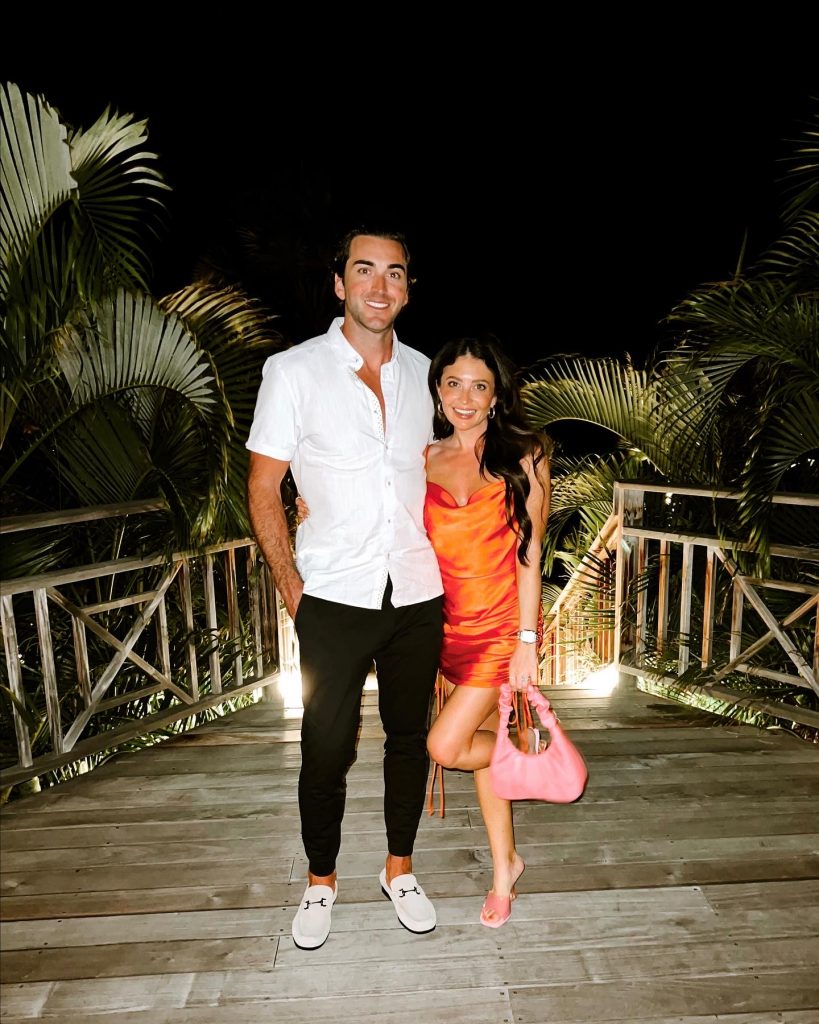 I wore this pink bag and pink heels for so many different outfits on our trip. They really can go with a wide range of items and are great to pair with green, orange, and white.

This green dress was so perfect for vacation and going to fun beach clubs after dinner. This fits true to size, and I got an XS.

If you love the color green this season, this is another great green outfit. This top is one of the best to be able to pair with colorful skirts and pants. The skirt runs a little big, so you could size down if you prefer.
Beach vacations are such a fun opportunity to play around with your style and try new things. Will you use any of these for your 2022 summer vacation outfit ideas? Let me know below!